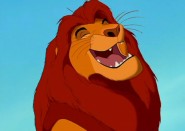 &nbsp
Lions are perhaps the best known big cat, famous for it's mane.
In Popular Culture
Edit
Lions feature in several movies and documentaries, and examples are Disney's The Lion King, BBC One's/ Discovery Channel's Planet Earth, and Disney Nature's film Earth. They also appear in Zoo Tycoon and Zoo Tycoon 2.
Relatives
Edit
Lions are part of the genus Panthera, so are closly related to tigers, leopards, jaguars, and snow leopards.
Main Diet
Edit
Lions are true carnivores, and will eat anything from gazelle, giraffe, zebra and wildibeast to rhinos and elephants. Their main diet also includes lizards.
Lion

Species:

Panthera Leo

Type:

Felidae

Diet:

Meat, and lots of it!

Status:

Vulnerable

Range:

Africa, India [Gir Forest]
Community content is available under
CC-BY-SA
unless otherwise noted.