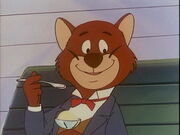 Rigadon
is the deuteragonist of the Spanish animated series
Around the World with Willy Fog
. He is a French lynx who wears a white shirt, a red bow tie, a black vest, a blue jacket, blue pants and a black bowler. He was hired by
the show's title protagonist
to replace the latter's butler, who had been fired for not tracking schedule. Unknown to Willy, he had also hired Rigadon's friend Tico.
In episode 6, in the scene where Passepartout was put on trial for sacrilege with his lost shoes as evidence, actually, the lost shoes were changed to Rigadon's hat because everybody always goes barefoot. This is for setting his hat on a cattle in Bombay, where to Indian folk, cattle are sacred.
In episode nine, it is he who rescues Princess Romy from certain death by burning with her late husband.