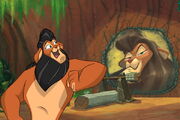 Xiro is the protagonist of the 2007 Argentinian film Noah's Ark (El Arca). He is a carefree lion prince and the son of King Sabu and Queen Oriana. He is intending to be a true king, but has to learn to act like one. He struggles with his future girlfriend Kairel about true rulership and responsibility. It is after the Predators (consisting of their leader Dagnino) trap him (when he falls for Panthy's seductive body) that he learns his lesson. However, Kairel and his real friends save him. When he also mistakes the voyage on the eponymous boat for a pleasure cruise, he takes Kairel with him after the death of his first choice of mate Bruma. Soon, Xiro shows responsibility and cooperates with his allies to subdue the Predators and take the animal kingdom back. He becomes a true king and wins Kairel's heart. In the English version, he is voiced by James Keller.
Community content is available under
CC-BY-SA
unless otherwise noted.